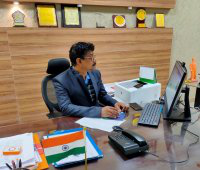 Dr. Hemalatha R MBBS; MD; FNAMS; FIUNS; FTAS
Director
Email: dirnin_hyd@yahoo.co.in
Contact: +91-40-27197233 / 319

Director's Message
Nutrition is the key element in nation's development, more so for a country whose people are its greatest investment for future. Today, India's problems as we all know are not just related to undernourishment, but the dangerous inroads are being made by non-communicable diseases like diabetes, hypertension and cardiovascular diseases (heart attack and stroke). In many cases, the same population, that was once grappling with the issues of undernutrition are today at the brink of nutrition transition.
Micronutrients such as vitamin and mineral deficiencies due to poor intake of fruits, vegetables and nuts (FVN) are central to the resilient problems of anaemia and stunting, and also for the increasing risk of non-communicable diseases (NCDs) such as diabetes, coronary heart disease, stroke, Alzheimer's disease etc. Insidious forms of hidden hunger - deficiencies of vitamins, minerals and other micronutrients - continue to exist even among food secure population. Promoting dietary diversity has to go hand in hand with creating nutrition literacy.
The food scenario, lifestyles and dietary patterns are continuously undergoing changes. NIN looks at the problems of nutrition from a multi-dimensional perspective and to closely integrate laboratory, clinical and community oriented research for outcomes that would have a lasting impact on the nation's nutrition status. NIN's truly multi-disciplinary scientific team, with a dedicated technical team and ever supportive administrative team is all poised to meet the newer challenges. Apart from science, NIN is also taking up many human resource development activities, advisory role to important regulatory bodies and state governments. The Institute welcomes collaborative efforts with the likeminded organizations.
During the last century, NIN has left indelible footprints on the sands of time. Today, standing at the threshold of our centenary year, NIN rededicates itself to fostering nutrition science and firming up nation's foundations for a nutritious future, as it marches towards Swasth Bharat and Kuposahan Mukt Bharat.